Cleantech Route China is Flanders' answer to a sustainable future, using the know-how of our SMEs in the cleantech sector. Cleantech is a sector characterized by many new, small, and very innovative companies. By stimulating and supporting internationalization, these companies are given the opportunity to expand the scope of their innovations and strengthen Flanders as an innovative region. 
China is an interesting and important market for Flemish cleantech companies, due to the high degree of urbanization that China has experienced over the past 30 years and the associated need for higher-quality living conditions for the population. Waste processing, water supply and purification, energy and heat production, ... are all areas where Flemish expertise can make a difference.  
The objective of Cleantech Route China – connecting Flemish and Chinese cleantech companies – is also perfectly aligned with the 2025 Made in China strategy and the shift to more green manufacturing projects in China. The expertise and experience of Flemish companies can support the Chinese regions in the realization of green factories and green industrial parks and projects to promote energy efficiency, environmental protection, resource usage, remanufacturing and low-carbon technologies. 
This cooperation focuses mainly on the 6 partner regions of the Flemish provinces in China: Chengdu, Chongqing, Guangdong, Hebei, Shaanxi and Zhejiang.  
The 3 offices of FIT in China, in Beijing, Shanghai and Guangzhou, cover the whole country. Besides these long-term partnerships, the project is also cooperating closely with CSES (Chinese Society for Environmental Sciences 中国环境科学学会) and CAEPI (China Association of Environmental Protection Industry 中国环境保护产业协会). CSES was the partner of the very successful seminar in Beijing during the Princely Mission of November 2019.  
During the past year, our activities have focused on digital participation to forums and expos in China and following up of the contacts that came from them. Recently, we organised a digital visit to Chongqing and Chengdu. Besides, we welcome delegations from China to visit us and meet with our Flemish Cleantech companies as soon as this is possible.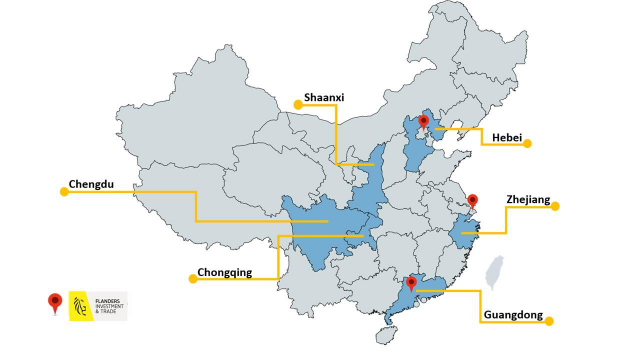 Discover our portfolio, which consists of several Flemish cleantech company profiles who are prospecting or developing business in China.
Contact us via email: info@routechina.be.